You are cordially invited to attend the opening of exhibition "The Path of Pain" where are presented the works of participants from the project "Dealing with the Past in Kosovo" realized by the NGO Action for Non-violence and Peacebuildi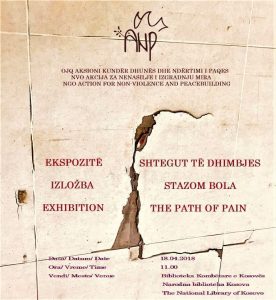 ng (ANP) in partnership with KURVE Wustrow from Germany.
In this exhibition through art we have approached our society, which continues to be affected by the violent past. It was achieved that participants from diverse communities of Kosovo to talk about their experiences and melt the pain and suffering in their artistic work, that testify for the mentioned period. Each story is presented in a visual way.
"The Path of Pain" exhibition documents the past and contributes to the process of dealing in genuine way, creating opportunities for achieving a stable and sustainable peace for all in the future.

Date: 18 April 2018
Time: 11.00 hrs
Venue: The National Library of Kosovo
This project is financially supported by the German Federal Ministry for Economic Cooperation and Development (BMZ).