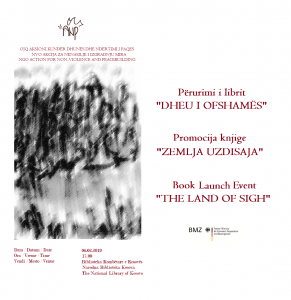 NGO Action for Non-violence and Peacebuilding invites you to attend the promotion event of the book "The Land of Sigh".
Date, Time & Venue
6th of February 2019 / Starting at 5 pm / National Library Pristina
The book is a collection of stories of the individuals that took part in the project "Dealing with the Past in Kosovo" implemented by NGO "Action for Non-violence and Peacebuilding" (ANP) in partnership with KURVE Wustrow from Germany. The stories describe the historical events of various periods of time and in a special way they remind us of the years 1998 – 1999.
At the book promotion event, a documentary film with participants' impressions for the project will be also presented.
Come and get your copy for free, and watch the new documentary about the development of the project.
For more information please contact us: anp_kos@yahoo.com
This project is financially supported by the German Federal Ministry for Economic Cooperation and Development (BMZ